Subscribe
The Host
Bookshelf bombshells Simone Turkington and Stephanie Drury met in a series of tubes while cyber-stalking a British rock band. The band broke up shortly thereafter. Draw your own conclusions. Have you ever dropped Mentos into a Diet Coke? Just saying.
Stephanie and Simone believe and disbelieve in God, respectively. They have an appalling fascination with dongs, fast food, the swimsuit area of pop culture, good books, religion and large big plentiful dongs. They are both married. Their husbands endure.
elsewhere
Description
On this episode:Transcontinental fortitude! Simone calls in from her snack nest in Australia and talks about the Aussie version of white trash (bogans). Stephy is busted for humblebragging and then is sad that atheists call her dumb, a stranger shows Simone her nipple ring, and nothing is more hilarious than hipsters at the gym.
Listen now or right click to save and listen later.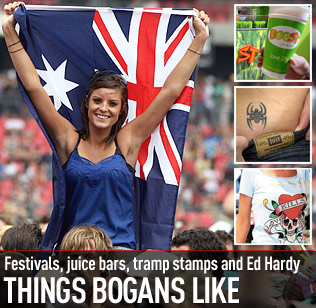 An example of modern day Aussie bogan make-up.
Simone was treated like a common bogan when she went shopping:

Click here to view the video on YouTube.
Wesley Willis's masterpiece "Rock 'n Roll McDonalds"

Click here to view the video on YouTube.
 Closing song: Otis Redding—"Slippin' and Slidin'"